Cooke opens new facility with showroom to serve Orange County California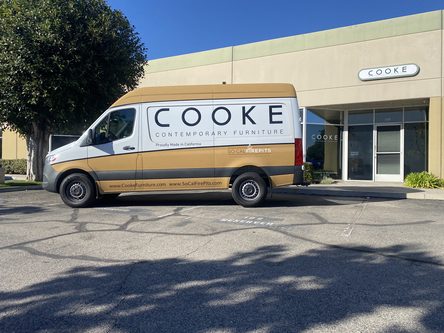 Brand New Warehouse & Showroom
Cooke furniture and retail arm So Cal Fire Pits now have a location in Anaheim. The facility is mostly manufacturing and shipping but it does have a showroom for customers to see a variety of our products and finishes as well as pick up will-call orders.
1260 Hancock St. Suite 107-108 Anaheim Ca 92807
Showroom OPEN Weekdays 8am-3pm
Cooke provides white glove delivery for our customers from Napa to San Diego and as far east as Las Vegas! You can buy with confidence that our professional team will deliver and assemble without any of the hassle of receiving freight or discarding packaging.
At Cooke Furniture, we specialize in designing and manufacturing the highest quality custom fire pit tables, gas fire pits, fire features, outdoor furniture, copper planters and accessories.
We use state of the art technology including 3D engineering software to design and fabricate our precision components. This manufacturing process allows for optimal design quality, flexibility and swift delivery of custom orders.
Our Quality
With the harsh outdoor elements in mind, each one of our products are manufactured from distinctly durable materials including 304 and 316 stainless steel, copper, aluminum and natural stone, which can endure the most extreme climates. Our Cooke Collection is primary for full custom builds, ocean front living and the most discerning clients while the So Cal Collection offers great value with a primarily aluminum construction and volume manufacturing.
Customization
Our production process is a designer's dream. We will customize each project with the use of almost any material specified by our clients to create a one of a kind look. Materials such as teak, Dekton, real marble, and choice metal finishes are examples that could readily be incorporated into any of our product designs. We can build to any size and offer fully automated and certified upgrades. Although we specialize in fire pit tables we also manufacture a variety of customizable products including contemporary outdoor kitchens, BBQ islands, planters, side tables, occasional tables, chairs, and accessories. We will also continue to develop new products in order to fit our client's specifications.
How to Buy
Please fill out our quote request form or call us today at (888) 303 – 2453 and take the first of a few easy steps towards creating your beautiful new gas fire pit table or custom product!
Need a standard size Fire Pit Table in a hurry? Shop or So Cal Collection or call us to see what we have in stock and get a great product to your doorstep in no time!