How To Clean And Maintain Outdoor Furniture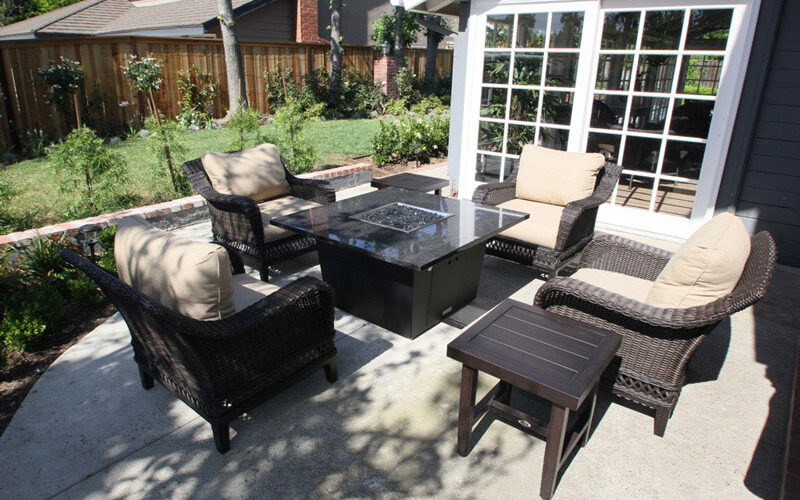 How To Clean And Maintain Outdoor Furniture
Spring is here and summer is upon us.  It is time to start dusting off all of the outdoor furniture you have.  Cleaning and maintaining all of the furniture will make you look like the host of hosts when entertaining guests.  In this guide on cleaning and maintaining your outdoor furniture we will focus on your barbecue, fire pit table, and patio furniture.
How to clean a BBQ
Gas grills, charcoal grills, and smokers alike, all need regular cleaning to stay in proper working order.  This type of regular maintenance is also essential to delivering top quality taste which consumers of your food enjoy.  In this section we walk you through all the dos and don'ts of cleaning your BBQ.
Steps To Clean Your BBQ Correctly
There are a lot of myths surrounding the proper way to clean your BBQ.  Through trial and error we have come up with an eight (8) step process to easily and effectively clean your grill.  This is to maintain the taste that your delicious food deserves.  It is also to also keep your BBQ running smooth for years to come.
Heat Your BBQ On Medium Heat For 30 Minutes – The first step in cleaning your grill is to apply some heat.  This will help loosen up the grease, grime and excess food that are remaining from previous cook outs.  The point here is not for high heat, but warm and consistent heat to loosen up everything you will be cleaning. 300 degrees Fahrenheit is what we are looking for here.

Disconnect Propane Tank (If Applicable) – The next step is to remove the propane if you use a gas grill.  This is purely a safety precaution.  Make sure the propane tank is turned to "Close".  Disconnect it from your BBQ hookup and set it aside.

Brush Grill With Wire Brush – Next brush your grates with a wire BBQ brush to remove any excess food or grease. Don't worry about being too thorough here as this just to make the following steps easier.

Vacuum Out Bottom Drip Tray – Now that the remnants of your previous grill session have fallen to the bottom, it is time to empty that drip tray.  This is also a good time empty and remove the grease collector if your grill has one.  Wait about 15 minutes with the BBQ hood open to let it cool from the previous warming. If your drip tray is removable, then remove it, and submerge it in a bucket of warm soapy water.

Remove and Soak Grates In A Bucket – Now it is time to remove the grates.  They may still be hot, so take care to remove with hot pads or your grill clamp.  Put them into a warm soapy bucket of water to degrease.

Disassemble All Peripheral Parts Besides Burners – Any of the covers, clamps, and fixtures should be removed and put into your soapy bucket to soak.  Do not remove the burners because this can cause complication putting them back together. You will be cleaning them in the grill.

Scrub With Cloth, Soap and Water – The next step is to soap and scrub the inside of the BBQ and all parts.  You may need to go over each a few times as the grime and grease can really get caked on.  In addition, scrub the parts that have been soaking in your soap filled bucket.

Brush Burner Tubes Clean – The most important step is to brush the burner tubes.  Grease and dirt can clog the holes that emit propane and can squelch heat in your BBQ.  Take your wire BBQ brush (We recommend a SoCal Fire Pits Fire Magic Grill Brush) and brush up and down.  You can watch the video below from Weber to get a detailed overview of the important process.
You have now successfully completed your annual BBQ cleaning.  It is a bit of a lengthy process, but it will serve you well in maintaining a long life for your BBQ.  Your guests will enjoy it as well as they will always taste fresh, and good smelling food.
*As a bonus tip, using a vinyl grill cover will keep your grill clean so your annual maintenance is not so laborious.
How To Clean A Fire Pit Table
There are many different classes of fire pit tables, but for the purposes of this article we will focus on Cooke Furniture fire pit tables.  Since they are made with the highest quality materials and meant to last a lifetime, cleaning is focused around maintenance of the different components.  Maintenance should happen at minimum of once a year and more often depending on use and environment.
We will briefly walk you through the cleaning process of each component of a Cooke Furniture fire pit table.
Powder Coated Surfaces
The powder coated surfaces of your fire pit can be treated much like a car.  Just like cleaning and waxing your car can extend the life of the paint, the same holds true for powder coated surfaces on your fire pit table.  We recommend cleaning with a soft brush or cloth, using mild soap and very warm water. Soaps that have emulsifiers that break down common stains and are scum free are the best to use.
After the surface is clean, it is recommended that you wax the powdered coated surface.  Be careful not to leave any additional wax on the surface as it could bake in from the sun's ultra violet light and leave a lasting film.
Stone Portions
The stone portion of your fire pit table can wear in various ways depending on the environment and the type of stone.  To keep the stone on your fire pit table looking great, we suggest mopping with with warm water or a pH-balanced neutral cleanser.  Rinse the surface thoroughly after cleaning.  Being that stone is a natural product, chemicals and cleansers can strip the natural beauty of the stone.
Stainless Steel Surfaces
Stainless steel can be cleaned as well treated for scratch removal.  To clean the stainless steel surface it is recommended to dampen a mildly soaped micro-fiber towel and wipe vigorously.  This will ensure that you do not strip or scratch the metal with harsh solvents or coarse materials.
To remove scratches, you can brush stainless scratches out with super fine scotch bright pad. After a moderate amount of rubbing, scratches should begin to disappear.
Fire Pit Glass
Clean fire pit glass can really make your fire pit look like a new piece of furniture.  The fire pit glass can be cleaned by removing it and washing it in a lettuce colander.  The best solution to remove dirt, debris, or soot from the glass is to use mild soap and water.  Pay special attention to rinse well so as to not leave behind any soap scum or residue.
How To Clean Outdoor Patio Furniture
Clean furniture makes your backyard look great for guests and even for the enjoyment of your own family.  Like a clean BBQ and fire pit table, it also ensures a long lifespan for your patio furniture.
Canvas Chair Backs and Seats
Cleaning canvas furniture consists of scrubbing the furniture with a cloth and laundry soap solution.  Simply mix a cap full of detergent in 2 gallons of water to prepare the solution. If the canvas is removable do so and hang out to dry after scrubbing.
White Plastic Furniture
White plastic furniture can be cleaned even easier than color furniture because of the magic of bleach.  Mix a cup of bleach to a gallon of water and scrub vigorously with a plastic cloth.  You will see the grime on your chairs melt away.  If you have a pressure washer, you can also achieve the same effect.  Be careful to use the mild spray nozzle as anything else will quickly wear away the plastic.
Colored Plastic Furniture
Plastic chairs often get dirty fast due to the elements of the outdoors.  They are not as easy to clean as white chairs, but they do hide dirt better depending on the pigment.  To clean color plastic chairs you are going to use an all purpose cleaner like Mr. Clean Outdoor Spray.
Cushions
For cushions, dish washing detergent is your best friend.  This process is very similar to how you would handle canvas, however it is just a bit more involved due to crevices in the design that may exist.  You are going to use the same ingredients as you did for the canvas chairs: a cap full of detergent in 2 gallons of water.  Wipe all of the surface and pay special attention to the crevices.  When the cushions are clean, hang them out to dry.
*Bonus Tip – Removing covers and chairs that can be faded by the sun when they are not in use is highly recommended.  No matter how well you clean, the suns rays are highly damaging to your patio furniture. If you must leave furniture outside and it is made of fabric, use a fabric protector.
Your Now Cleaned and Maintained Outdoor Furniture
You now have a cleaned outdoor furniture.  It is time to coordinate a bbq or backyard dinner party to show off your beautiful decor.  Do you have any tips for cleaning outdoor furniture that have worked exceptionally well for you?  Let us know in the comments. Make it a great summer, from Cooke Furniture!