Selecting A Glass Windscreen For Your Gas Fire Pit
Glass windscreens are a popular addition to any gas fire pit. They improve the quality of the fire by blocking the wind and also provide a barrier between the fire and your table top.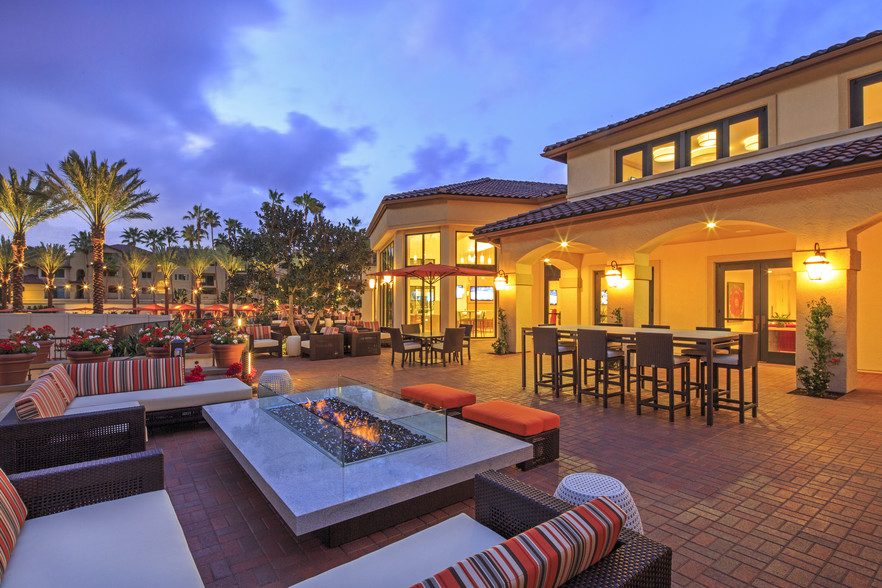 At COOKE Furniture, we build custom fire pit tables and custom glass windscreens for commercial and residential use. We also have a large selection of Outdoor Greatroom and Hearth Products Controls windscreens. With so many options available, we've put together this Buyer's Guide to help you find the right tempered glass windscreen for your gas fire pit.
Size:
The most common question our customers have when selecting a glass windscreen for their gas fire pit is related to the size of the windscreen. The glass wind guard has to be bigger than the fire pit opening. You do not want your glass windscreen in the interior of the burner pan. Glass windscreens are not designed to be directly in the fire. They are to surround the fire. We recommend using dimensions that are 2" – 2.5" larger than the fire pit opening. Measure your fire pit! If the fire pit is 12" x 24", we would recommend a 14" x 26" size. Most windscreens are available in a 6" height. This provides an adequate level of protection. For extra protection, COOKE produces windscreens in a 8" or even 10" height.
Glass Thickness:
Glass windscreens are available in a variety of glass thicknesses. From thinnest to thickest, glass windscreens are available in 3/16", 1/4", 3/8", and 1/2" thick tempered glass. Most windscreens are produced from 3/16" glass however at COOKE we always take durability to the next level. We offer thicker 1/4", 3/8", and even 1/2" thick glass. Thicker glass is heavier, more durable because there is more glass, provides a premium look, and allows for much larger windscreen sizes. For XL wind guards consider 3/8" or ½" thick glass!
Construction:
There are two types of windscreen construction – Clamp together windscreens, and clampless windscreens.
Clamped together windscreens have metal corner clamps that hold the glass panels in place. These are popular and inexpensive. A lot of these windscreens have bottom clamps that have rubber feet. These grippy rubber pads keep your windscreen in place and keep your table top scratch free. We like these windscreens as they are a great value and can be shipped anywhere. COOKE can build clamped windscreens out of any glass thickness and to any size.
Clampless windscreens feature a unique construction where there are no corner clamps. COOKE miters the corners and bonds the windscreen together to create a super durable commercial grade windscreen with unobstructed view of the fire. COOKE uses extra durable 3/8" or ½" thick tempered glass to create these beautiful windscreens. Our residential customers love the simplicity, the look, and the durability of clampless windscreens. Our commercial customers love that it is easy to clean, there are no clamps that could loosen over time, and there are no parts to lose and replace. At COOKE we build custom windscreens and can accommodate your design idea.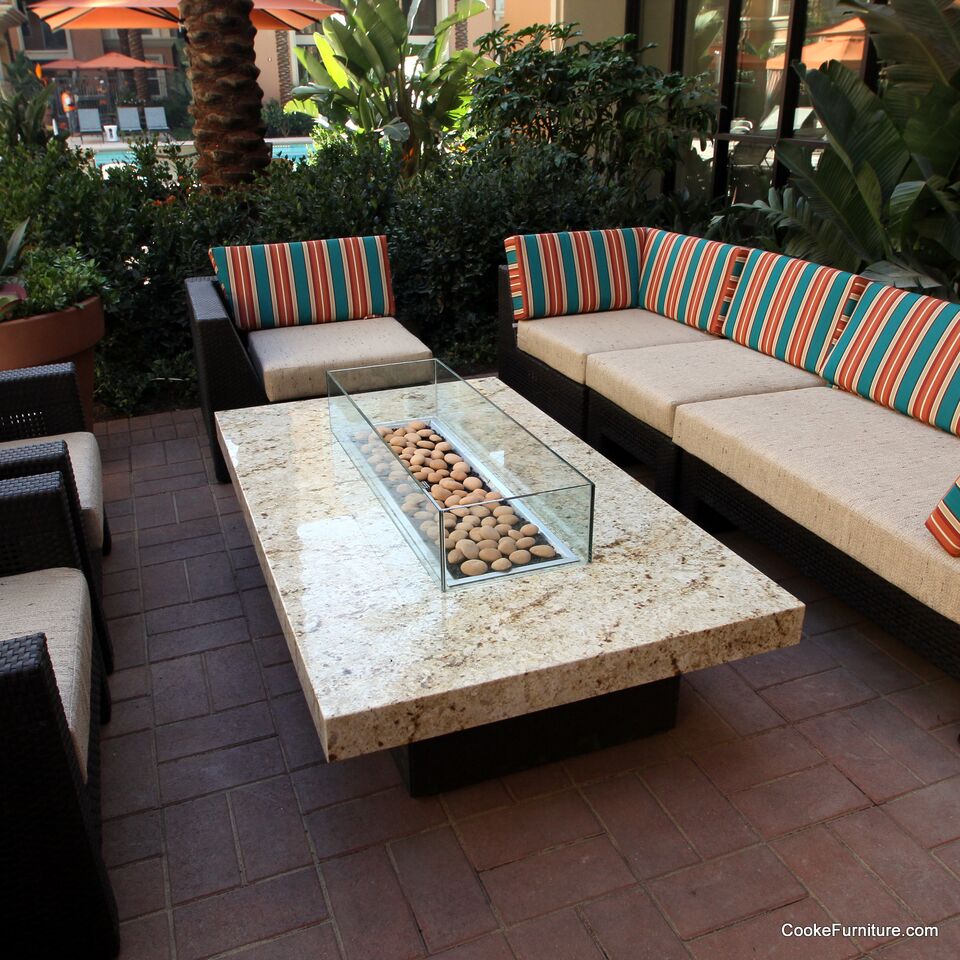 Glass Type:
There are two types of glass that can be used for gas fire pit windscreens. Clear Tempered Glass and Starphire Ultra Clear glass.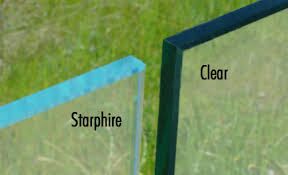 Clear tempered glass is our most popular option. Most windscreens for outdoor gas fire pits are constructed from clear tempered glass. Clear glass has a slight darker greenish blue tint as a result of the natural iron in the glass. A lot of people don't notice this as most glass has this effect.
Starphire Ultra Clear glass is premium architectural glass that has especially low iron content. This glass does not have the slight tint and your view of the fire is literally crystal clear. Starphire glass is more expensive but customers who use it love it!
We hope this helps you select a glass windscreen for you gas fire pit. At COOKE, we encourage customers to purchase a windscreen for their gas fire pit. We want your fire pit to burn beautifully and for everyone to have a safe, enjoyable, relaxing moment with family and friends. Please call us at 888-303-2453 if you have any questions about a glass wind guard for your contractor-built fire pit or brand name fire pit table.