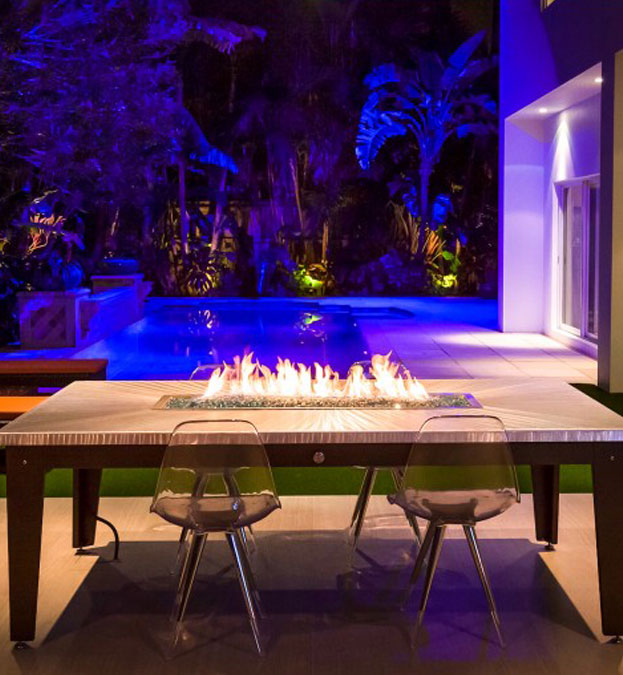 THE APEX OF LUXURY
Our COOKE Collection allows for full customization, tailored for design professionals, architects and Builders.
Materials in the Cooke Collection
The standard materials are 16ga 304 stainless steel and Natural stone. However, many different materials can be used for the fire pit table top and base. Unique alloys such as 316, 5052, A36, COR-TEN, Copper and Monel are all possible materials.  If that weren't enough, optional top materials can be but are not limited to concrete, stainless steel, Quartz, Wood, Monel, soapstone and Marble.  In our opinion, the top is focal point and should be as unique as your design.
Additional feature options
Features available on our COOKE Collection are limited only by your imagination. Some common options for our fire pit tables include glass wind screens to protect your flame, forced air heating to keep your legs warm, full electronic ignition for push button or automated operation and LED ambient lighting to set the mood at night with a warm under glow. In addition you have the choice of over 6,500 powder coat colors and exotic copper finishes.
Commercial installations are made easy with our ability to use certified burners and safety mechanisms such as timer switches and thermal couple manual valves.
Other information
Our products are also easy to assemble and can be broken down into manageable sections that can avoid having to hire a crane for rooftop installations or difficult access areas. The Cooke Collection offers not only custom Fire Pits but seating, plant containers, water features, light fixtures and more so you can tie in similar ascents across your project. Contact us today to explore your possibilities.